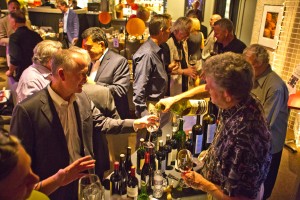 Kuumbwa Jazz held its 13th Annual Wine Tasting, Dinner and Auction Gala on Saturday, October 24h at the Kuumbwa Jazz Center, celebrating the anchor arts organizations' 40th Anniversary. All proceeds of the event support Kuumbwa's concert and music education programs.
Santa Cruz's iconic jazz venue was transformed into a party playhouse with a riot of colorful lanterns and decorative lighting to mark the occasion. As attendees entered the tented courtyard, Bill the Oysterman's stellar team provided an endless supply of fresh oysters paired with Nicolas Feuillatte Champagne and Navarro Chardonnay. Guests moved on to wine tasting featuring fine reds from the private cellar of Erik and Judy Johnson (of Erik's DeliCafé fame); Miner Family Winery's 2011 "The Oracle"; and Alfaro Garys' Vineyard Pinot Noir 2013 poured by vintner Richard Alfaro himself.
Guests mingled while surveying silent auction items, such as rare California cabernets and pinot noirs, golf and sports packages, winery tours, and a beautifully hand-knotted rug from Nepal. As attendees moved into the club for dinner, live jazz played by the best of the Kuumbwa Jazz Honor Band filled the room. Chef Cheryl Simons began the meal with a little gem Caesar salad. The entreé was a delicious braised lamb shank with slow roasted early girl tomatoes, yellow Finn potatoes, and Romano green beans. Coffee and chocolate celebration cake was served as the party moved onto the grand finale of the evening – the "live auction."
Auctioneer Romney Dunbar inspired guests to bid on a stunning array of one-of-a-kind items, including VIP passes and accommodations to the 2016 Gent Jazz Festival in Ghent, Belgium. The most anticipated item of the evening was an exclusive private dinner with distinctive Joseph Phelps Insignia wines from the private cellar of collector Ted Kirkiles, along with dinner by Gabriella Café. Other hot items included VIP passes and accommodations to the Tucson, Arizona Jazz Festival  and a rare 1991 Gentaz-Dervieux Cote-Rotie Cote Brune, so uncommon it was described by sommelier Alyssa Twelker of Soif as a "unicorn wine." At times the bidding reached zealous levels as Kuumbwa supporters raised their paddles in hopes of securing a coveted item – knowing their donations help the nonprofit jazz and education venue celebrate its 40th Anniversary….and many more anniversaries to follow!
Original artwork by Joe Hyatt
Photos by r.r. jones