Let's raise a glass! Over $90,000 raised for Kuumbwa Jazz's music education initiatives and year-round concert programming.
Each year we look forward to our annual benefit and this year's event, Raise A Glass To The Queens Of Jazz, was one for the books. Thank you all so much for joining us — together we raised over $90,000, which will help us continue to bring incredible concerts to our community as well as another vibrant year of our education programs, such as Kuumbwa's Jazz Camp, Honor Band, Artists in the Schools and free Master Classes.
View and download photos from the event on Flickr. 
Our deepest thanks to Miner Family Winery for sponsoring and providing top-shelf vintages for guests, and to Chef Nancy Oakes, of San Francisco's Boulevard, for the delectable dinner. The additional wine selections from the private cellar of Erik and Judy Johnson made this event, celebrating women in jazz, a night to remember.
Thank you for joining us and for your generosity! We hope to see you at next year's event and at a concert soon.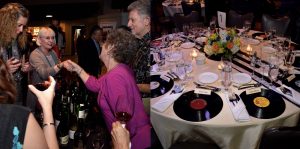 photos by Paul Schraub
original artwork by Joe Hyatt