Kuumbwa Presented Concerts

Special Event

Education Event

Club Kuumbwa

Independently Produced Concerts / Rental Calendar

The Duo Quartet Experience- Chris Webster, Nina Gerber, Pam Delgado and Jeri Jones
Saturday, April 21, 2018 @ 7:30 PM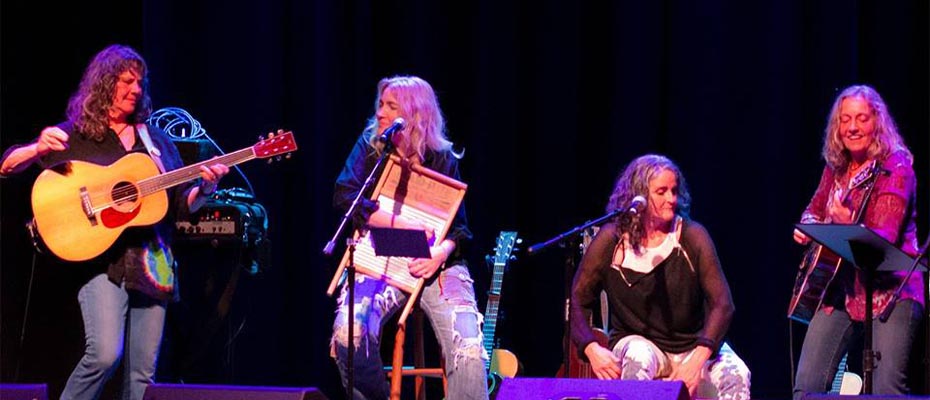 Chris Webster is a soul singer beyond genre. In the course of recording over 20 albums on her own and with others, she has drawn equally from classic R&B thumpers and gospel-grass prayers, from rockabilly rave-ups and singer/songwriter confessions. Webster's work is rooted in the classic American tension between a yearning for transcendence and a lusty connection to the here-and-now.
After carving a career out of what some might call the shadows, guitarist Nina Gerber is at last beginning to dare the light. Her first album as a leader, Not Before Noon, follows two decades which brought her to prominence without ever placing her name on the front of an album cover. Since her accompaniment of Kate Wolf first earned her recognition, her acute skills as performer, producer and arranger have continued to deepen. Her contributions to acoustic music have earned her a following as loyal as for the numerous high talents she has accompanied – proving the shadows equal to the spotlight in the creation of honest, powerful, and beautiful music.
Founding members of the Bay Area's renowned all female powerhouse Blame Sally, Pam and Jeri occasionally appear in their original duo format, The Pam and Jeri Show. Their original songs have had national airplay including feature and rotation on San Francisco's KFOG and Starbucks XM Cafe.
For over a decade Pam and Jeri have been rocking West Coast audiences with their energetic, inspired performance that ranges from mournful ballad to sweet love song to blazing acoustic soul. These two accomplished instrumentalist/singers combine strikingly different approaches to create a distinct and compelling sound. Put this on your "not to be missed" list! Fans comment that they are amazed that "so much noise comes from just those two girls".
The two met as "side" musicians playing with Central Coast legend Jill Knight. The San Luis Obispo New Times voted Jill's Knight Out "Best Band on the Central Coast" four years in a row. Pam Delgado and Jeri Jones began to work as a duo in the late 90s and formed another Central Coast band, Blue Water Triplets. Pam's breathtaking vocals, strong percussion and diversity carry her charismatic performance. Jeri Jones plays various guitars, dobro, mandolin and bass with creativity and technical virtuosity and contributes rich background vocals. The duo moves effortlessly between musical genres.
$27-$42/Advance  | All Ages
Doors at 7:00 PM
Presented by Snazzy Productions 831-479-3421